Powered from your skidsteer, the WX400 series are quick to split. With powerful splitting force and the ease of connecting to your skidsteer, your job will be finished in no time.
Features
HANDS FREE RETURN
- AUTO NEUTRAL
The splitting wedge automatically returns to the start position, ready for another piece. This allows you to clear the split pieces and prepare the next chunk for splitting.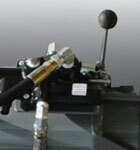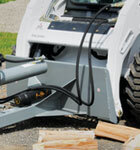 SKIDSTEER MOUNT
The quick-attach skidsteer mounting system makes it easy to pick up your splitter and go. Across the yard or through the bush, Wallenstein makes moving your splitter simple.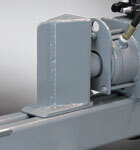 9" WEDGE HEIGHT
Split logs up to 9 inches in diameter in one shot, saving you time.