Features
HANDS FREE RETURN
- AUTO NEUTRAL
The splitting wedge automatically returns to the start position, ready for another piece. This allows you to clear the split pieces and prepare the next chunk for splitting.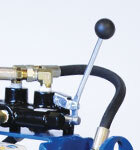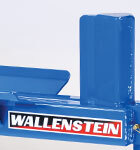 9" WEDGE HEIGHT
Split logs up to 9 inches in diameter in one shot, saving you time.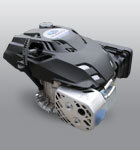 POWERED BY HONDA
GCV160 ENGINE
Trust the reliable power of Honda to muscle through hardwood with ease.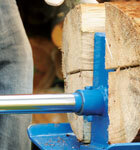 CYLINDERDIAMETER/STROKE
4" / 24"
The hydraulic cylinder splits through logs up to 24" long which is plenty of room for the common 16-inch wide Face Cord.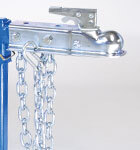 SAFETY CHAINS AND
2" BALL HITCH
Tow your WE Splitter safely and easily with the 2" ball hitch and safety chains. Standard on all 200 models.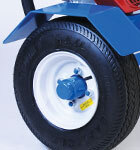 4.8" x 8" TIRES
Tow easily over rugged terrain with 8" tires. Standard on all WE200 series models.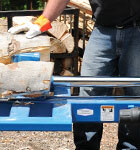 2 STAGE HYDRAULIC PUMP 11 GPM
Maximize your efficiency with the 2-stage pump that moves quickly and splits powerfully. Stage 1 quickly moves the wedge from the start post ion to the point of contact where minimal pressure is required. As the splitting action begins, the flow decreases and the pressure increases to provide maximum splitting force.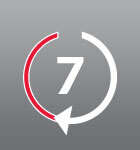 AVERAGE CYCLE: 7 SECONDS
Average splitting cycle time is the average amount of time it takes for the splitting wedge to fully split a log, setup the next piece and begin splitting again.
The average splitting cycle time is based on straight grain logs. The average splitting cycle time will increase when processing stringy or cross-grain logs.