WP840 FIREWOOD PROCESSOR
24" Split Opening Firewood Processor
389 CC Honda GX390 Engine - Electric Start
25 Ton Splitting Force
Features
Auto Cycle
Splitting is a one-step, hands-free process that operates at the same time as you prepare the next block. Wallenstein's Auto Cycle feature gives you single action control of splitting. Auto Cycle powers the log through the adjustable 4-way wedge and returns to the home position quickly, ready for the next log.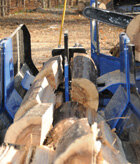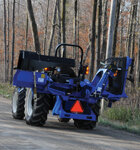 FOLD THE TRAYS AND TAKE OFF
Hit the road with confidence with this completely highway ready trailer design. The compact design folds together tightly, taking up minimal storage space.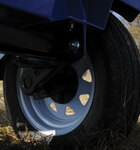 TORFLEX® SUSPENSION AXLES AND 12" HIGHWAY TIRES
This high end trailer suspension kit and 12" highway tires allow for easy pulling over long distances with less stress on the equipment.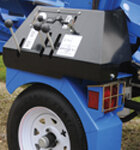 HIGHWAY SIGNAL LIGHTS AND FENDER KIT
WP 800 series is fully highway ready and perfect for heavy travel applications.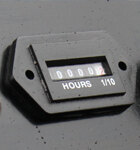 HOUR METER
Track your usage easily with the built in hour meter.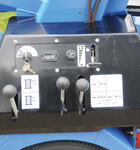 SINGLE SIDE CONTROLS
Convenient controls always within reach makes cutting wood even