Directly connected to your tractor's PTO, power is transferred straight into chipping/shredding action - quickly turning limbs, branches or debris up to 4" in diameter into valuable chips or mulch.
Features
HEAVY DUTY ROTOR
At the heart of the Wallenstein BX Chipper is an oversize heavy duty rotor and reversible chipping blades. The large diameter rotor has a faster tip speed for improved chipping action and the heavy gauge steel keeps your momentum to power through 4" diameter tree trunks.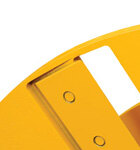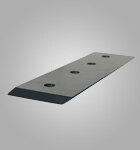 CHIPPER BLADES
The reversible blades are precision cut tool steel and hardened, keeping a sharp cutting edge and maximizing the performance of the chipper.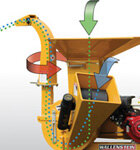 ADJUSTABLE EXIT CHUTE
Located at the top of the chipper, the fully adjustable exit chute provides the ultimate in performance and versatility. The top mount design allows easy loading, keeping wood chips off the ground, reducing clean up and time. STANDARD ON ALL MODELS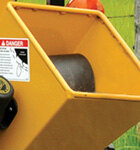 SELF-FEEDING CHIPPER HOPPER
The over-sized side-intake hopper is precisely angled – allowing the BXM to self-feed, reducing the need to limb branches before processing– resulting in less work to get the job done.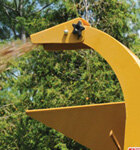 INTEGRATED SHREDDER HOPPER
All BXM models are designed with a wide intake to accommodate large amounts of awkward brush, leaves and bark.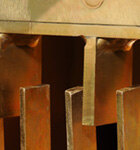 EXCLUSIVE CHOP-BLOCK
For shredding, the BXM revolutionizes the whole way you've come to expect finely mulched ground cover. Inside Wallenstein's innovative shredding chamber are three sets of intricate cutting knives and the exclusive CHOP-Block. The CHOP-Block works like an anvil, trapping the material and forcing it to be shredded more precisely, ensuring consistent cut, clean-out and delivery of the mulch through the exit chute. Unlike conventional shredders, the BXM has no screens which greatly reduces clogging, even with wet material.

.